During Memorial Day Week-End – A Soul-Full Evening with Ayanna Gregory and Her Band – "Live" – The D.C. Statehood Concert Series Continues
Thursday April 25, 2013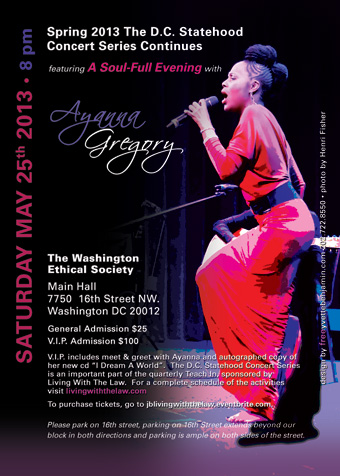 For the past five years, artists and activists have gathered in Washington, D.C. to promote the effort to make the residential and commercial parts of Washington, D.C. the 51st State. This year, we plan to take that program on the road, with hopes of covering many states in the fall of 2013 and the spring and summer of 2014.
This Event, a continuation of our D.C. Statehood Teach-In and Concert Series --- with the brilliant artists we have assembled --- will serve as a Prelude to our Tour. My Periodical, Living with the Law, is the prime sponsor of the Event and theTour. If you wish to join us on the Tour, look for future details at this Web Site.
We are delighted to have Ayanna Gregory, a unique and wonderful vocalist, and daughter of celebrated Comedian and Human Rights Activist Dick Gregory. We believe this will be a memorable, enjoyable evening. Don't miss it!
Those who purchase V.I.P. Tickets will be able to attend the After Party and mingle with the artists and will receive an autographed copy of Ayannna's new, exciting CD.
Join us on May 25th for the continuation of the D.C. Statehood Teach-In and Concert Series, and then join us on the Tour. Thank you.
For the Spring Teach In schedule of events, view the event flyer.